To have participated in the JKB Program, participants were nominated and selected as remarkably influential and peer leaders within their schools.  The basic ability was already there, JKB fortified and enhanced those skills to make their influence and mentoring even better, more effective.  They emerged more capable of helping others. 
A Lifelong Bond and Immeasurable Impact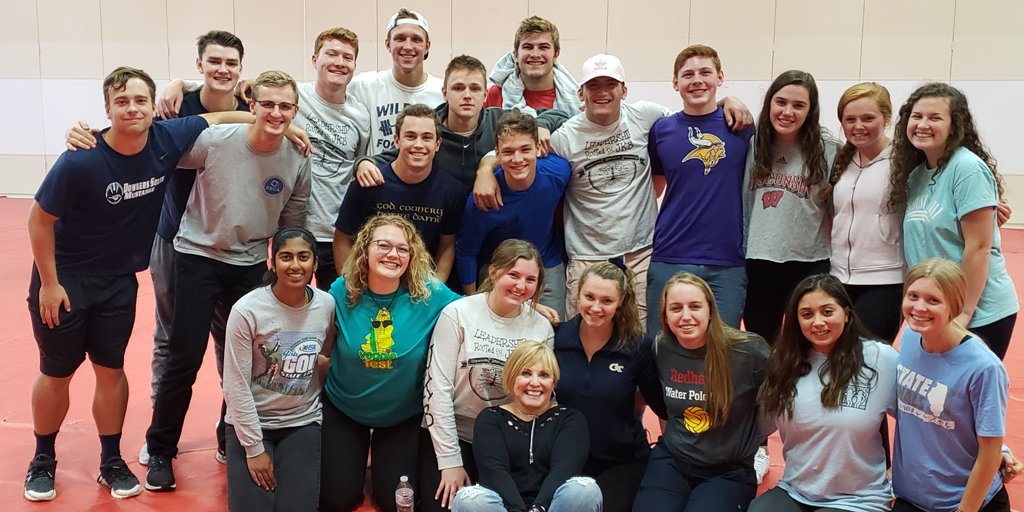 The JKB bond is like gorilla glue: instant, strong, and lasting.  How does one week together create lifelong friendships?  When 20 mirror images of one another spend 35 hours learning about themselves, then about helping others, the intimacy of camaraderie is profoundly deep rooted.  Whether it was rafting on the Arkansas River or paddleboarding on the Mississippi River, students worked together, learned together, or chilled together, and the time resonated with each of the participants.  
The ROPES course, then solidified everything learned in the classroom.  Subsequently, when they were back at home, school or on the field/court, the impact of their experience was palpable. Family dynamics improved, peers were helped, and community service-oriented organizations were championed.  
Because of the alumni, JKB became ingrained into the fabric of their families, their schools, and their communities. The synergy developed from the alumni working together made the environment for many exponentially better.
For Alums
Are you a JKB Alum? We want to hear from you! Share with us your information so we can highlight your accomplishments and keep in touch.
Brett Lullo-NCHS induction into Hall of Fame – swimmer JKB 2005 
Also inducted: Amy Korthauer (Moade) also inducted (JKB 2004)
Autumn Salisbury (McGarvey) JKB 1999  (Kewanee HS)  Hall of Fame.
JKB was an amazing experience. It helped me develop skills that have certainly impacted my professional and personal life in ways I could not have imagined.
Picture of Anthony Dohse (WWS) & James Palmer (LPHS) both JKB 2013 met up at the 2016 Army-Navy game.  Friendships forever.  They both graduated from their respective schools in 2019.
Just wanted to say thank you and let you know that although it's been 12 years since I was at the Ranch those words and experiences still ring in my head everyday
I love to hear these things, I live to hear these things, I aspire to inspire these things
I never realized how big an impact something can have on your life.  Not just the week at the Ranch, but also the past two years being a part of JKB have truly impacted my life.  Before I was a part of JKB, I never really saw how much my help can make a difference……JKB provided me with the skills and confidence I needed to lead a group and make my voice heard.  The principles behind JKB are also what have really helped me most in difficult situations…….JKB has taught me that there are more important things within a sport than actually playing the sport.  One year, five years, or ten years from now, I will not remember the specific games, but rather the team and the experience.  JKB has opened my eyes and has made me value the relationships I have formed and the lessons I have learned from being on a team. ….I have learned to stay positive and work hard for what I want.  It is during the difficult times especially that I see the impacts JKB has had on my life, and I strive to use the lessons from JKB to help make an impact on lives of others
White Sox games-for over 10 years served a dual purpose-fundraiser & alumni reunion.  JKB was always on the jumbotron!
Thinking of you today and all I learned from JKB! I have a client who owns a horse farm and has been going through hell both personally and professionally this past week and is just a wonderful person. I'm currently getting ready to go euthanize a very special foal that we have all put our blood sweat and tears into and she has overcome so much in her few months of life but sadly we have lost our battle… I was just thinking "why do bad things happen to good people" and I swear to God I heard your voice saying "what do good people do when bad things happen?"
Hi Mama B!
               I hope you're doing well! It has been extremely long since I have reached out to you since participating in the camp almost 10 years ago!! I came to Colorado in 2011 and represented Lincoln Way North with Amber Keiklak.
Anyway, I was currently in the Denver airport for a work trip and every single time I step into that place it takes me back the mountains, and the horses, and the ropes course, dancing into the kitchen to GIRLS, and the scary white water rafting trip haha! It also takes me back to the classroom and lessons learned. Sometimes I get so wrapped up in my "busy" schedule that it takes these moments to remind me of how I got to be where I am today. That airport is a special place for me! I didn't realize it then, but I flew home after that week at the Ranch as a completely new leader. It built such a great foundation for me and I can't help but think that I wouldn't be where I am today if these basic lessons weren't instilled in me the way they were at the Ranch. 
Sometimes you don't realize how much you appreciate something or someone until you notice that you're still talking about them almost 10 years later ……..
I owe much of this success to JKB and I will not forget that. My motivation and desire to work hard for the world around me took a steep rise after getting into JKB and attending Monmouth.
I must also tell you, I still read through my notes from camp once every two weeks or so. I find it to be a really great way to re-center myself and evaluate. I am still learning things from two summers ago, and that is crazy awesome.